We are excited to share that Keila Ochoa's eight-week online "Writing the Christian Novel" course starts August 31.
Learn more
and plan to join Keila and other Christian writers for this wonderful opportunity. The course is a partnership of Biblica Virtual, Letra Viva, and MAI. It will be offered in Spanish.
Nos complace anunciar que el curso en línea de ocho semanas de Keila Ochoa "Escribiendo la novela cristiana" comienza el 31 de agosto. Obtenga más información y planee unirse a Keila y a otros escritores para esta maravillosa oportunidad.  El curso es un esfuerzo en conjunto de Bíblica Virtual, Letra Viva y MAI.
Presentación
¿Es la ficción mentira? No. La ficción es un viaje hacia universos creados por la imaginación que no solo es una réplica de la verdad, sino que nos ayuda a, como dijo Jorge Volpi: «comprender el mundo, comprender a los demás y comprendernos a nosotros mismos». Este curso es para esos soñadores, narradores y contadores de historias que aman la ficción y por eso quieren escribir su propia contribución dentro de la narrativa con una cosmovisión cristiana. ¿Te unes a la aventura?
Destinatarios
Dirigido a personas interesadas en escribir una novela dentro de la cosmovisión cristiana.
Objetivos
Proveer herramientas para la creación de una novela que contenga los elementos esenciales de la ficción. Como también:
Comprender los distintos géneros de novela.

Cultivar disciplinas del escritor.

Crear personajes creíbles.

Identificar el tema de la novela.

Hacer el bosquejo general de una trama que cautive.

Pensar en el estilo.

Crear una sinopsis.

Escribir un capítulo muestra.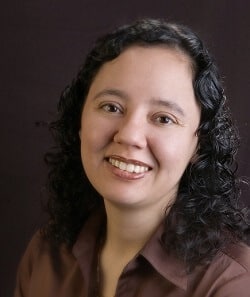 Keila Ochoa publicado más de 20 libros con diferentes editoriales, entre ellas Grupo Nelson, Verbo Vivo, Milamex y Ediciones Las Américas. Ha escrito novela, devocionales y libros de crecimiento cristiano. También tiene novela juvenil y cuentos para niños. Además de ser profesora de inglés y Biblia, capacita escritores en el mundo por medio de MAI (Media Associates International). Actualmente vive en México con su esposo y sus dos hijos.