Nigerian author Pusonnam Yiri discusses his journey as a writer and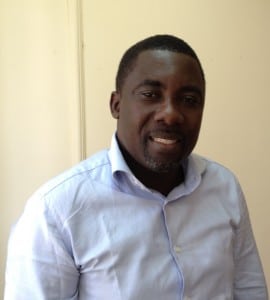 how authors can promote their own books in this interview with MAI staff intern Nicki Consoli. Pusonnam and Kenyan author Jennifer Karina will share valuable tips in our August 19 webinar, "Author Promotion on a Low Budget." Register online now.

Q: What factors led you to become a writer?
While I was in seminary, a few ministers who loved my illustrations in preaching/speaking asked me to document them. I wrote my first published book mostly to meet that need.
Many of our elders are dying with their values undocumented. I don't want that to happen in my time. If we don't write good books now, many of the books our children read will be written by false ministers. When Jesus was tempted by Satan, He referred to a written document. Jesus answered, "It is written: 'Man does not live on bread alone" (Luke 4:4 NIV). Our children should be able to say, "it is written" when they face temptations.
Q: Why did you decide to publish your own books?
I did not have a structured reason when I started. I only wanted my books to reach an audience. Later, as I began to train writers, I discovered the need for a publishing platform for my books and other potential writers. Recently, ACTS, a major publisher in Nigeria, accepted my books for publishing and distribution. This will take the books to another level.
Q: What are the best ways to promote your own books?
I have an approach that I call the "Triple P Concept": Promote the book through the stages of Pre-Production, Production and Post-Production. People should know about a potential book even before it is released.
A lasting, effective promotion is achieved only when a book is good. A book that is a solution to the problem of the target audience will be promoted by its beneficiaries. I often say, "If a book is a drug, there are patients who will need it."
Every writer should be a thematic writer so that he or she will become an expert in his or her subject area. This will eventually lead to speaking. A speaking platform is a very good channel for promotion.
Q: How have you seen God's providence in your promotion efforts?
A literature professor in a secular university in Nigeria used my book, Blindness of the Mind, as a textbook with his students. He told me that two of his students received Jesus as Lord as a result of the book.
Q: How does your newest book, Understanding Purpose: Everyone has a role in God's masterplan, speak to the needs of people in Nigeria?
Many people are frustrated for two main reasons: Some don't know what to do in life, while others have discovered what to do, but they don't know how to do it. The book helps people overcome frustration by understanding the purpose of life and how to achieve it. People will know that no one is useless in God's master plan.
Q: What advice would you offer writers regarding promoting their books?
When you send someone to somewhere with a message, it is your responsibility to sponsor the trip. Similarly, God will support any message that is from Him. A writer should first of all ensure that God is the Sender.
Pusonnam Yiri and Kenyan author Jennifer Karina will share valuable tips in our August 19 webinar, "Author Promotion on a Low Budget." Register online now.

Email Pusonnam at [email protected]