A young author is on the fast track to fulfilling her dream of educating underprivileged children in Indonesia.
A few months after our LittWorld 2015 conference, Tiur Faith Saj Purba, 25, launched her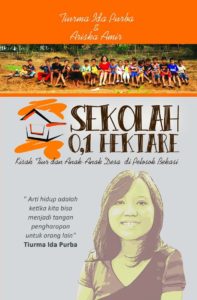 autobiographical book 0.1 Hectares School, published by Christian publisher Metanoia. She and co-author Ariska Amir tell describe Tiur's childhood, attending a neighborhood school with crumbling walls and her vision and work to educate village children.
Tiur attributes LittWorld 2015 with equipping her in publishing, plus enabling her to lead her non-profit.
A workshop on leadership was particularly helpful "because I learned to lead by love and the Word of God," she said. "I can use the teaching in writing and publishing to bless a lot of people.
Only one year earlier in March 2015, Tiur launched Rumah Belajar Bekasi (House for Learning). The nonprofit tutoring center serves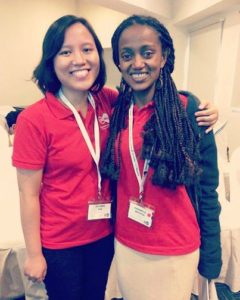 low-income children in Bekasi, a poor suburb of Jakarta, Indonesia's capital. She recruited 10 other volunteers to give up their Sundays to teach some 30 children in a room only 7 by 4 meters. Donors contributed books, pencils and notebooks.
Since that first center, Tiur has opened two additional centers for children, gathering volunteers and supplies through her blog and website.
"My vision now is to build a free school for poor children," Tiur told us. "I hope they can feel His love through my ministry."
Her book's publicity has propelled Tiur's vision further as she travels in Indonesia and Malaysia to speak on TV talk shows and give newspaper interviews. All of the book's proceeds will be poured into creating an official school. Tiur is already working on the government paperwork.
Check out Tiur's latest ministry updates on Facebook.
Photo above: Tiur (left) with new friend, Ethiopian author Hermela Solomon, at LittWorld 2015.
Indonesia is home to some 1,000 publishers, of which about 40 are Christian. The world's most populous Muslim nation of 240 million people is nearly 10 percent Christian.