January 10-11, 2013     
"I had been asking God what else I needed to do to turn the publishing house around," said Ruth Mozo, general director of Ediciones Las Américas (ELA), a firm located among the cobblestone streets and colorful shops of Puebla, Mexico. Her prayers were answered during a two-day consulting visit in January with Ramon Rocha III, our director of publisher development.
Mozo (middle in photo), a 33-year employee of ELA, began leading the company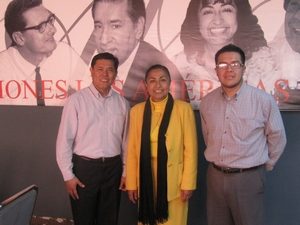 two years ago. She and her five managers met with Rocha (left in photo) to articulate a mission, a vision and dreams for ELA.
"I was impressed with the commitment and dedication of Ruth and her staff," Ramon said, "but they all agreed they needed to up their skills and be more open to change."
In their discussions with Ramon, the team also focused on strategies for developing local and national writers. Only 20 of the 300 titles in ELA's catalog were written by Latin authors; however, the team has identified several Mexican writers to challenge, nurture and develop. According to Ramon, ELA has raw materials that can be maximized: three particularly enthusiastic female authors and some titles with bestseller potential, such as a series of colorful activity books for kids.
Ramon and the ELA staff also discussed marketing, distribution and finance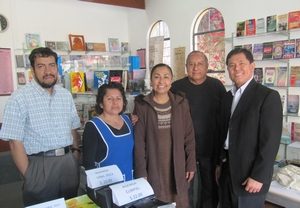 issues, including action steps to implement immediately. ELA will concentrate on rebuilding their ties with other Latin American countries and using the resources of Letra Viva, a network of evangelical publishers in Latin America.
"My team and I have worked hard to overcome some very difficult situations," Mozo said. "At times we have felt very discouraged, because it seems like no matter how hard we work, things don't get any better. But during the meetings with Brother Ramon, he shared his experiences, new ideas, and, particularly, words of encouragement that truly refreshed us."
For more information about ELA, visit www.edicioneslasamericas.com.
By Meaghan Zang, MAI intern