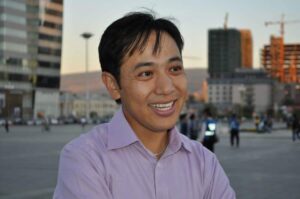 When he's not on the air or penning his next book on relationships, Timothy Byambatogtokh is busy raising three-year-old triplets and a five year-old daughter. The 37 year-old's daily radio program, "The Love Project," has been strengthening families across Mongolia with biblical wisdom since 2009. Now Timothy is preparing to dig deeper with his listeners via books.
Tiomthy's fledgling publishing house, Uhagantu ("wisdom"), gained momentum this March 8 to 11, with help from Ramon Rocha, our director of publisher development. Ramon and Timothy strategized, networked with other publishers and dined in Timothy's Soviet-style apartment in central Ulaanbaatar.
The Church in Mongolia began sprouting after the collapse of Communism in 1990. Most of the nation's 90,000 believers are first-generation Christians in need of discipling. The country boasts a high literacy rate and freedom to witness. Timothy became a believer in 1998 at age 18, moved by the lyrics of a hymn.
"We want to see our people, as a result of reading our books, live out biblical wisdom as a way of life—without us being too preachy," Timothy said. His vision is to create books that bless general readers, not just Christians. Timothy's 100,000-plus radio listeners and 240,000 Facebook followers provide a robust readership base for any books that he publishes.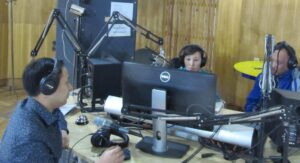 He plans to release his first title, Love Project for Couples, this May. The book is based on stories from listeners and feedback gathered from his radio program. Sales revenue from the first 1,000 copies will fund the next two titles, Love Project for Children and Black Book for Single Ladies.
After creating an initial publishing budget with Ramon's help, an appreciative Timothy said, "Your consultation has given me a sense of direction."
Please pray for the Lord to guide Timothy and continue nourishing the young Church in Mongolia.