For everything there is a season,
a time for every activity under heaven.
A time to be born and a time to die.
A time to plant and a time to harvest.
A time to kill and a time to heal.
A time to tear down and a time to build up.
A time to cry and a time to laugh.
A time to grieve and a time to dance.
A time to scatter stones and a time to gather stones.
A time to embrace and a time to turn away.
A time to search and a time to quit searching.
A time to keep and a time to throw away.
A time to tear and a time to mend.
A time to be quiet and a time to speak.
A time to love and a time to hate.
A time for war and a time for peace.
What do people really get for all their hard work? I have seen the burden God has placed on us all. Yet God has made everything beautiful for its own time (Ecclesiastes 3:1-10).
After permanently moving here eight years ago, I have grown to truly appreciate the changing of seasons. I only knew about the seasons from books and movies. In my country of birth, we only have two "seasons" — wet and dry. Or as some people would call it, rainy and not-rainy.
Right now, the trees in our neighborhood leading up to our house have started to turn various shades of yellow, red, and orange. Two months ago, they were all green.
What's interesting about the cycle of seasons is that there is nothing you can do to hasten or delay its coming (and ending). Winter, spring, summer, and fall just happen, every year, like clock work. No matter how desperately you want things to stay the same, it doesn't happen. So what do you do? You adapt. You adjust to whatever season you are in now.
There are many seasons of life. A season when you are perfectly healthy and a season when getting out of bed is an achievement. A season of starting and building your career; a season when you're entering retirement. A season when you, as a parent, are busy caring for your kids; and a season when it's your kids worrying about you.
With the changing of the seasons, only one thing remains: God's love. God is always present in all the seasons of our lives. King David experienced this from the time he was a young shepherd boy tending his father's sheep until he breathed his last after serving as Israel's king for 40 years. In Psalm 89:1 he wrote, "I will sing of the mercies of the LORD forever; with my mouth will I make known Your faithfulness to all generations." Truly, we can bank on the Lord's faithfulness. We, too, can echo the prophet Jeremiah's words in Lamentations 3:22-23, "The steadfast love ofthe Lord never ceases; his mercies never come to an end; they are new every morning; great is your faithfulness."
Whatever season we are in now, may we find peace in the fact that this is God's appointed season for us. And He will carry us through the next, when the air starts to feel chilly and the trees get covered in snow.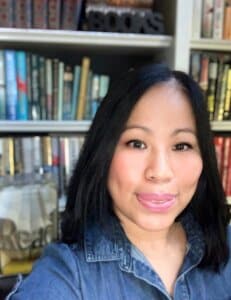 Beng Alba-Jones, an MAI board member, is a freelance writer, editor, and translator. She lives in North Carolina with her husband, Daren, who is never without a book to read. Before moving to the US, she lived in the Philippines, an archipelago with more than 7,000 islands.