This parable by Roland Cubahiro of Burundi garnered runner-up honors in our first of five writing contests. Contest judge Mary Horner Collins, a freelance editor with more than 20 years' editorial experience at major Christian publishing houses, called it "a fantasy-like parable with beautiful imagery and imaginative use of language. The story is complete and satisfying, and gives hope. It retells the Creation/Jesus story in a fresh way."
By Roland Cubahiro
In the beginning, the sky and the earth were one. They were joined in a blissful space full of wonders and magic. The stars walked among men, dressed in beaming and glistening cloaks; men were intrepid, wise and gifted with all kinds of skills. They all lived in peace, perfect harmony and eternal joy.
One day, northern people rebelled against the reigning order. They believed themselves different and superior, thus meant to rule the world. Then, they took up arms and started conquering lands, wiping entire cities out. Other tribes soon joined in the rebellion out of fear and greed. Soon, there were wars and hostilities everywhere.
The sky opted out of the conflict and decided to leave the troubled earth. One morning, people woke up to find that the sky had gone. In its place there was a void, filled with thin air, and a boundless horizon. Songs were no longer jovial, for their echoes disappeared in the void, and the wind carried the singing voices away in all directions and places. Henceforth, the earth became a desolate place, full of sufferings and mourning. The people bore the mark of violence and agony.
One night, a man descended from the sky realm, he was half-star half-man. His face shone with beauty and amity like a blossoming wild hibiscus. He wore royal attire and walked barefoot from place to place, listening to people's grievances and helping them; restoring their joy. In his hands, he carried a Bush-willow twig. Every time he met people and heard their laments, the twig would grow in size and weight. Eventually, it grew to become a heavy tree and he could carry it no more on his back.
No one knew where and how he died, but it was believed that he died toiling under the heavy tree. After his death, the tree took roots in the ground and flourished, bearing all kinds of beautiful fruits, with evergreen leaves holding healing powers. Whoever ate its fruits healed and slowly turned in the likeness of the dead man, half-man half-star, and his deeds became like the dead man's, good deeds.
There is an age-long prophecy that, one day, the tree's branches will grow wild to cover the whole earth and simultaneously reach the sky's threshold. In those days, the sky and the earth will be one again, and all will be well forever.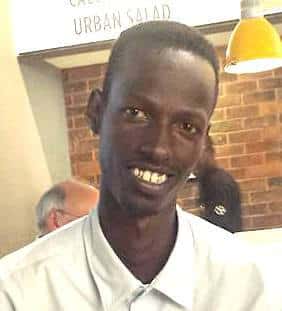 Roland Cubahiro works in student ministry in Burundi, in the department of Scripture engagement. His work and passion is to see students love Scripture and relate it to their lives. Reading and writing are his hobbies.
>>Read the first place winner, "When Hope Deflates," by Stephanie Rische of the USA.
Write to Win! Enter our four remaining writing contests. Respond to each writing prompt in English or Spanish, in 400 words or less, and enter to win $50 USD. Check out the contest guidelines.