By Hankuri Tawus Gaya, Nigeria
There is a drummer behind every piece of writing. Writers dance to the tune of the drum as they write. The drummer dictates the content and all that the book represents, while the writers bring the interpretation of the tune to life.
Anyone who buys or reads the book, in a way, supports the mission of the drummer. I dance to a drum from the throne of grace! A drum that flows from the heart of the Creator of the world. A drum that connects with the purpose of humanity and the whole of creation. And the drummer I dance to has moved me to write a few books.
Here are 10 reasons why I have chosen to dance to the tune of my Creator's drum and His purposes for my life:
1. AFFIRM THEOLOGY
I write to affirm my theology. Yes! Biblical theology. I discovered that God wrote. Jesus Christ came as God's written Word. And the Holy Spirit inspired the writing of God's Word and still enables believers to write. God created me in His image and likeness. So, I write to affirm my theology and show forth the glory of God to the world.
2. EXPRESS MY UNIQUENESS
I write to express my uniqueness to the world. God created me unique and no one can be me in the whole wide world. And my biggest contribution to the world is the contribution of my uniqueness. I write as a steward of my uniqueness to the world.
3. DISCOVER PURPOSE
God used writing to help me discover my God-given life-purpose. I write to help one soul discover his/her God-given purpose, too. To develop and deploy that purpose for the glory of God and the good of humanity. I write to fulfill purpose and help one more person discover purpose.
4. ADDRESS PROBLEMS
God brought me to the world to be a solution to problems and answer questions in the world. Writing is one way I step out to solve the problems and answer the questions God created me to answer.
5. PASS ON THE TRUTH
It is said that Truth is heavy and only few people carry it. One of the world's big needs is the truth. It is the truth that sets people free. It is the truth that brings victory and liberty. I write to pass on God's revealed truth on various issues to my generation and generations to come.
6. PRESERVE GOD'S AMAZING WORK
Without writing, generations to come would not know what God has done in my life and my generation. I write as a commitment to capture God's amazing work and preserve it for generations to come.
7. REACH A NEEDY WORLD
We still have people who are helpless and without a shepherd. People who need to know that Jesus Christ came and that He will come again. I write to reach a dark world with the message of salvation.
8. DEVELOP RESOURCES FOR DISCIPLESHIP
God's desire is for humanity to become like His dear son Jesus Christ. Discipleship is the vehicle to Christ-likeness and writing plays a critical role in that journey. I write to provide discipleship resources for the Church and society.
9. ADD AN AFRICAN VOICE TO THE CONVERSATION
The world of literature is like an ocean that is being fed by rivers. Each region is a major river that gives to the sea. I write to make a contribution as an African voice from my village, Jangyar, Boi, to the conversations taking place in the world.
10. GENERATE INCOME
God gives us the power to generate income and create resources that will enable us be the people He has created us to be. To advance God's Kingdom in the world, I need financial resources. When people purchase my books, I'm also able to support missions and meet basic needs.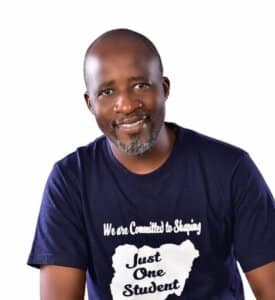 In summary, I write for the glory of God, the good of humanity and the fulfillment of my life purpose. I have submitted myself as a writer who interprets the tune of the drummer. I do not seek to be the best writer in the world, but to be the best me that the world will ever have. I invite you to read my books and I challenge you to write.

Hankuri Tawus Gaya  is a dynamic youth pastor and a campus missionary with IFES Nigeria. He is passionate about challenging "Just One Soul" to become all that God has created them to be and together make the world God's dream place. Hankuri has written 21 books and co-authored a book published by Oasis International. He also has 12 songs to his credit.  Hankuri is married to Faith and blessed with three adorable girls.