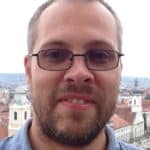 Last year Balázs Zágoni of Koinonia publishing house in Romania was awarded MAI's David Alexander Author Fund to complete his first science fiction novel for young adults. Until now Balázs has published nine children's books, but he has always wanted to be a novelist. Sphere, his working title, describes a futuristic era of food and fuel shortages and severe climate change.
Vic, a 13-year old boy, lives with his father in a mushroom colony. He encounters a strange transparent being, a sphere, who saves his life and with whom he can communicate telepathically. Vic struggles to choose between the warnings of his family and the tempting benefits associated with his unique friendship. We interviewed Balázs about his journey writing sci-fi:
What have you found most challenging in writing science fiction?
I discovered after my second draft that a science-fiction novel needs similar research to a historic novel. Well, you cannot read the history behind a sci-fi novel—you have to write it! So I started to write the last 30 years in the history of this city and its colonies. Plus the back stories of Vic's parents. I needed to write dozens of pages, even if they don't go directly into the novel. That hopefully will create a much sharper picture of this imaginary world.
What lessons do you want young adults to take away?
I do not want to teach any kind of lessons! Sometimes even for me it is a question where the story goes. What interests me is situations in which we are tempted to convince ourselves that we are on the right track, while in fact we are not.
Vic has several intense inner dialogues during moments in which he has to make tough decisions. He must choose between his family's seasoned advice and his own limited, personal experience. Which is reliable? Is the sphere a sort of friend and helper, a kind of savior, or a cunning enemy trying to seduce and enslave him?
What is your favorite science fiction book?
Recently I enjoyed very much Cormac McCarthy's The Road, but I enjoyed and learned a lot from Stephen Lawhead's Bright Empire series too. Though they are not sci-fi, the Harry Potter books had a great impact on me also.
How have your cultural roots influenced your writing?
I grew up in Communist Romania until I was 13. Then the Iron Curtain fell. And I became a Christian when I was 19. These two things influenced me a lot. I am also an ethnic Hungarian living in Romania. So I am sensitive to issues where there is a majority and a minority, or where there are different cultures.
I was raised by my writer and journalist parents telling me, "As many languages you know, as many times you are a human being." I speak three languages fluently. There is always another point of view, which seems very true for the other person's life and cultural background.
When do you hope to have the book complete?
My son enjoyed it and gave the draft to two other friends. He keeps encouraging me and asking when it will be ready. I hope to have the final draft finished this year.
<Learn how Balázs started writing in our interview, "An Accidental Children's Writer"