Launching a seminary is challenging even in normal circumstances, much less during a pandemic. But for Bafana Tshabalala, CEO of The Academy of Theology in South Africa, the goal is worth pursuing, regardless of the obstacles.
"We want to intentionally contextualize Christianity in the African context," he said. "Many of the Bible colleges and Christian schools are run by Americans with an American worldview. We need a gospel that has a practical application for our people and context."
Bafana and co-founder Sibusiso Mlotshwa formed the fledgling Academy to provide training for black South African church leaders, particularly those serving in the townships and rural communities, and to create gospel resources rooted in the South African context.
Consequently, they recently invited MAI-Africa to facilitate a day-long training workshop, "Book Writing from Concept to Publishing," at a church in Johannesburg.
"We recognize the importance of extending the work of the pastor through writing," Bafana said. "We want participants to go through basic training on book-writing stages: conceptualizing, planning, research, writing and publishing."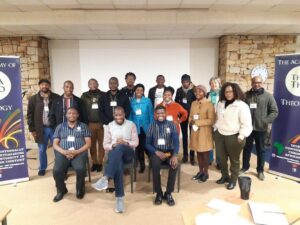 Some 100 men and women received the training, either in person or online, from a stellar cast of teachers: author Afrika Mhlophe of South Africa, author and editor Roger Palms, author and publisher Lawrence Darmani of Ghana, and publishing consultant Barine Kirimi of Kenya. (You may view these lectures free on MAI's YouTube page.)
MAI-Africa trustee and author Joan Campbell, the local coordinator for the workshop, praised the Academy's support for black South African Christian authors. "They told participants that if they wrote a book, the Academy would promote it. They are also determined to have writing as a subject in the new seminary's curriculum."
Going forward, the Academy will continue efforts to provide writer and other trainings, to help churches share the gospel in contextual ways in their communities, and to form the new seminary and secure its accreditation by 2023. "Our hope is that The Academy of Theology will be a great help in bring the truth of the gospel in a way our people truly understand," Bafana said.
Please pray for The Academy of Theology and its equipping of local authors. Pray too for God's provision of scholarship funds enabling Bafana and Sibusiso to attend MAI's LittWorld 2022 conference in Hungary.