This piece was written by Ajith Fernando. It was used with permission. 
I write this to encourage writers, teachers, and others who work to communicate God's truth, especially in countries that cannot afford to set people apart to specialise in these kinds of ministry.
Here are some things that will help us to persevere in doing what is needed to faithfully feed the flock. Faithfulness to us communicators means seeking to provide food that is:
accurate and faithful to the Word
understandable
convincing
of high quality
effectively packaged
God's calling is often difficult to fulfil, but if God has called you, he will give you the ability to do it. Since the time of writing my Master's thesis in the 1970s, Psalm 18:29 has been a favourite verse: "… and by my God I can leap over a wall."
Writing and other public ministries do not make us superstars. We are ordinary people who are stewards of an amazing treasure: the truth of God. "But we have this treasure in jars of clay, to show that the surpassing power belongs to God and not to us" (2 Cor. 4:7). With the perilous values peddled by the celebrity culture, it would be good to keep reminding ourselves that we are jars of clay. But the glory of the treasure we handle must make us take pains to communicate it in a way shows the grandeur of God's glory.
History shows that many of those whose writings had a wide, deep, and lasting impact on the church taught and wrote out of a generalist background that included the rigours of grassroots ministry (e.g., Paul, Augustine, Chrysostom, Martin Luther, John Calvin, and John and Charles Wesley). It is tiring; but I hope you will be able to agree with what John Wesley said as an old man, "I am weary in the work but not weary of the work." God has ways to renew our souls while we toil for him.
Grassroots work gives the context out of which we teach and write. Spending a long time encouraging a struggling Christian or preparing and teaching a Bible study for five people enriches and gives life-transforming insight to the books which we write to be read by thousands of people.
Our families are a primary responsibility. Though we may be stuck with study/ministry projects, their needs represent a primary call to us from God. We must attend to them without delay. It may result in extra weariness, but it could also be refreshing. God can minister healing to us through washing dishes, grocery shopping, playing with children and doing other chores for our family members.
Make sure that your family members journey with you in your tough projects. Take the time to explain to them about your progress and challenges, even though they may not fully understand what you are struggling with.
Everything we write and teach is the product of the community to which we belong (not just ourselves). Though we may be leaders, if we are Christians, we must be under a community. They should be involved in the decision to launch into our major projects. They need to be informed of our progress. They may forget what we are doing, and some may not seem interested. But we must keep them informed. If they are with us in spirit, they won't resent the time and resources spent on our projects.
As our output is the product of the body of Christ, make sure you ask members of that body to pray for you. "The prayer of a righteous person has great power as it is working" (James 5:16). Many will forget to pray. Some will not even read your request for prayer.
That is inevitable in this information-overloaded age. Don't be upset about that. But some will pray. Some of God's greatest blessings to us are mediated through the prayers of his people. "You also must help us by prayer, so that many will give thanks on our behalf for the blessing granted us through the prayers of many" (2 Cor. 1:11).
In the meantime, we will struggle on, blundering as we go, falling short and seeking God's forgiveness, and trying to be balanced, but realising that perfect balance will come only in heaven.
But we must always try to make sure that we tap into God's adequate resources of freshness.
Through absorbing the security that comes from spending unhurried time daily with God. Audience response is very important to communicators. But it is never the source of our security. "The eternal God is your dwelling place, and underneath are the everlasting arms" (Deut. 33:27).
Through relishing his grace freely showered upon us. The challenges are many, and the criticism painful, but those do not crush us because the promise of sufficient grace brings hope to every situation. "Let us then with confidence draw near to the throne of grace, that we may receive mercy and find grace to help in time of need" (Heb. 4:16).
Through savouring the great source of joy in our lives: we are loved by God! People will respond differently to what we communicate. But what thrills our souls is the reality that our heavenly Father smiles over us. "See what kind of love the Father has given to us, that we should be called children of God; and so we are" (1 John 3:1).
Security, grace, and joy from the Lord brings a spring to our step and a smile to our face amidst the weariness of study and writing.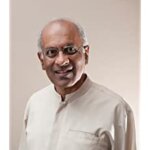 This piece was written by Ajith Fernando. 

Ajith ThM, DD, was National Director of Youth for Christ, Sri Lanka for 35 years and now serves as its Teaching Director, spending much time mentoring and counseling young Christian workers. He has a worldwide Bible teaching ministry. He studied at Asbury and Fuller Seminaries and is a visiting lecturer at Colombo Theological Seminary. His books have been published in 20 languages.