By Ramon Rocha
The Economist recently described Africa as "a hopeful continent." I had the joy of visiting Ghana and Nigeria in August. Dan Balow and I led a publishing training with 28 participants from 20 publishers in Accra, Ghana. I also enjoyed a consultation visit with Africa Christian Textbooks (ACTS) in Jos, Nigeria.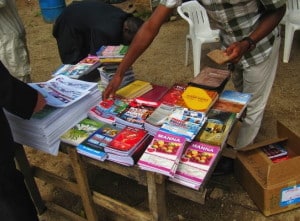 In both African countries, Christians are a majority. I saw churches with congregations as small as 50 people next door to mega churches. Christianity pervades their cultures with store names like "Anointed Cold Store" and "Kingdom Books and Office Supplies"  as common sights. A significant market for Christian books exists, yet Christian publishers are struggling.
Why? One reason is that piracy is a huge problem. If your title is experiencing brisk sales, most likely it will be copied illegally and sold at lower prices. Pirates use the same local printing presses as publishers. They also print in India and China (sometimes with the same companies that are printing the legal copies), then ship the pirated titles in container loads and distribute them freely. I wouldn't be surprised if the same problem occurs elsewhere in Africa.
Obviously, some government authorities are turning a blind eye either for monetary gain and/or to avoid endangering themselves. And readers are buying the lower-priced books! To fight piracy, many publishers have agreed to: strengthen their ranks by approaching government as an association rather than individually, narrow the price gap between legal and pirated copies, educate consumers, and encourage pastors to preach that buying pirated books is a serious sin.
While these economies are steadily improving, low wages dictate low selling prices for books. Bookstores are trying hard to make both ends meet with a meager 20 percent margin. Several have closed. As elsewhere in the world, publishers are increasingly marketing and selling directly to consumers.
To improve margins, most publishers in Ghana and Nigeria are now printing in India. The unit cost of printing in India, even if you add shipping, is half of that locally. Over printing and poor scheduling challenges remain. But at least publishers have found a way to increase their margins and hopefully offer more discounts to booksellers.
I also heard about a proliferation of poorly edited or entirely unedited self-published books. Pastors of some big congregations are emboldened to self-publish because they see guaranteed sales of 2,000 copies from a 2,000-member church.
In Ghana, publishers whose books become  textbook curriculum are thriving. Most publishers want to publish school textbooks. Schools have replaced bookstores as distribution centers. Unfortunately, the 
ongoing strike of teachers in Nigerian state colleges and universities since June has severely affected the sales of publishers like ACTS.
In Nigeria, publishers are finding it difficult to hire qualified and competent staff due to the "civil servant mentality." Because of the oil boom dependency, people just show up to work and get paid. There is no "pursuit of excellence" attitude. In many cases, new hires don't get past the probationary period. Or good employees leave the company quickly because of higher pay elsewhere doing less work.
Despite these problems, Christian publishing in West Africa is poised for growth. God's word bearing hope planted in the hearts of African people will grow and eventually bear fruit.
What other challenges do Christian publishers face in Africa? And what steps do you suggest to overcome them?
Ramon Rocha is director of publisher development for MAI.