On Sunday my extended family tried to organize a first-time group video call.  It took us a while to find a platform for everyone: Would it be Skype, Zoom, WhatsApp, Google Hangout, mobile phone or something else?  One family member couldn't attend but sent a note that everything was okay.
But in the end our call took place, despite a few inevitable technical glitches. We all enjoyed seeing faces, hearing voices and laughter, getting updates, sharing prayer requests, and being reassured that everyone was fine and connected as a family in this coronavirus age.  It was an experience we will try again.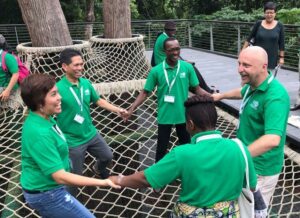 Similarly, MAI wants to provide ways in which we can stay connected with YOU in these unsettled days.  People who've attended a LittWorld conference or other training often refer to themselves as part of the MAI global "family," and that is how we consider you!  We are family, both in a spiritual sense as God's children but also in our shared passion and commitment to the ministry of the written and published word.
In the coming weeks, the MAI staff and I will be expanding the platform on which we may share ideas, resources, updates and prayer requests.
These include:
—A March 31 "Global Prayer Meeting." Half a dozen global publishers will tell how the COVID-19 pandemic is impacting their work and pray for one another. You'll be able to share your prayer requests in the chat box. (Learn more and register)
—An additional free training webinar each month.
—Posting your creative ideas. We're sharing on MAI social media your ideas for better serving readers longing for a message of encouragement and hope found in a loving God. (Facebook, Twitter, Instagram) Email your creative ideas to [email protected].
We invite you to continue visiting our website and social media to learn of additional ways to interact within the MAI global family as they become available.
Some of us have been harder hit than others, whether in health or financially, by the pandemic.  And communication is key for us to encourage and strengthen one another.
Per the text in Romans, may the God who gives us endurance and encouragement give us a spirit of unity as we follow Christ Jesus, so that with one heart and mouth we may glorify the God and Father of our Lord Jesus Christ.
John Maust is president of MAI.