MAI welcomes Ramez Atallah, general director of the Bible Society of Egypt, as a keynote speaker at LittWorld 2018, our world conference of Christian publishing. Ramez was born in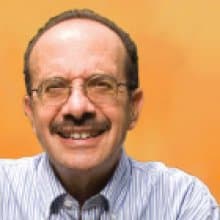 Egypt and immigrated with his family to Canada where he came to know the Lord personally and was discipled through the ministry of the InterVarsity Christian Fellowship at McGill University in Montreal. After he graduated with a Masters Degree in Social Work from McGill and a Masters Degree in Divinity from Gordon-Conwell Seminary, Ramez and his wife, Rebecca, moved back to Montreal to lead the French Student Ministry of IVCF (GBU).
In 1980 they moved to Egypt where Ramez served as the Regional Secretary of the IFES. In 1990 Ramez was appointed as the General Director of the Bible Society of Egypt, the post which he holds until now. He twice served as Vice-Chairman of the Lausanne Movement and was program chair for the Cape Town 2010 Congress.
The Bible Society of Egypt participated in the 49th annual Cairo International Bookfair, the oldest and largest in the Arab world, this January 27 to February 10. Ramez described the powerful impact of their Christian presence in a recent Bible Society newsletter:
"For the second year now, the Bible Society has been invited by the Ministry of Culture to present several shows for kids. Kingo [the lovable lion mascot] is on hand, with puppets, a clown and a singing drama group of young people. While children growing up in Sunday School would feel at home here, this is a unique presentation for most. Children come on stage to say five things that God created for us. Parents are invited to share as well, often going beyond the birds and trees to deeper things, thanking God for our health, our senses, etc.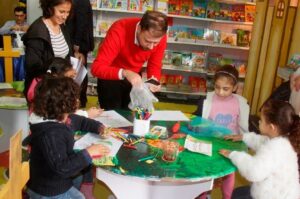 "During our first show, a representative from the Ministry of Culture was in attendance to assess. The team was later surprised when the woman came all the way across the fair grounds to find our booth, specifically to thank the Bible Society. She stated that while the acts before and after ours were mocking people and making foolish jokes for cheap laughs, 'Yours had a different tone. You were able to pull good things out of people and get them focused on wholesome and positive thoughts. We are surrounded by all these wonders but we don't pay attention or notice them. Yours is a very refreshing message that our kids need to hear.'
"This year one of our two booths has been designated solely to serving children, with fun activities and all of our children's scripture products on display. This colorful, welcoming booth is indeed attracting children and their families. Although it has affected our general sales negatively, our agenda is to promote the message of God's Word."
<<Watch this one-minute video of Ramez answering the question, "How does an effective leader say 'no' to something?"
Ramez Atallah will be speaking at LittWorld 2018, world conference of Christian publishing, on "God's Word for a Troubled World." Learn more details about LittWorld 2018.