This piece by E.S. Huberty won second place in our LittWorld 2018 writing contest. Judges remarked, "A powerful and very personal look at depression, artfully written without giving usual pat answers," and "I loved what the author learned about being refined by God."
Participants were invited to submit an original piece of writing that helps readers see the truth or power of one Scripture verse or passage in a fresh way. We were delighted to receive more than 152 submissions from 91 writers in at least 22 countries.

Gold
by E.S. Huberty
Depression poisons me first. I look in the mirror to ask what's wrong, but the girl with shadows under her eyes can't reply. The pills do their best to dissolve the impurities, but at 16-years old, despair feels too much a part of me. Medication number one, two, three, four; the numbers slide by like the weight I lose that first year of treatment. Prozac lies and makes me believe I'm having a heart attack. My hands shake. I can't do this anymore.
I ignore my psychiatrist, afraid of losing too much. After three years of pills, maybe the worst has passed. Teetering, I keep balance through hollow prayer and church, unaware of the pollution trickling through my veins. Well-wishers attempt to exorcise the mental illness, pinning the blame on the devil.  I push ahead without medication. I ask the mirror why she can't get better, but don't really want the answer.
Disregarded memories break from hibernation, boil over, and hijack my life. I lock myself in a dorm for two days, I fail a few exams. I take the pills again and go back to the psychiatrist. In the mirror, there's no longer a demon hunched in the corner. Shadows still rim the girl's eyes, but the illness won't surprise her again.
Depression and its new companion anxiety compete for attention until there's no room for anything else. Having accepted that mental illness is here to stay, how do I learn to live with it? I quit school and scream at the girl in the mirror, but she won't talk. Apartment walls keep me safe, the outside too menacing, too monstrous. Too familiar with my sickness, I let myself smolder, hoping to finally dissipate into ashes and be done with it.
Sparking through the smokiness, love tells me to keep trying. More therapy strips off fears, like acid burns away copper. The chemicals of pills that taste of rotten oranges refine from the inside out. Emotional labor pays off. I go back to school and get a degree. The gazes of strangers no longer scald. Thriving with mental illness still isn't easy, but it's possible.
Ten years in, I'm no longer blistered to the bone by the heat of this sickness, my skin thickened by flame. Old scars fade, while new ones serve as more armor. The girl in the mirror recites Job 23:10, "He knows the way that I take; when he has tried me, I shall come out as gold." The shadows beneath her eyes sparkle. We blaze, finally at peace with understanding that we cannot fully understand why God makes us burn.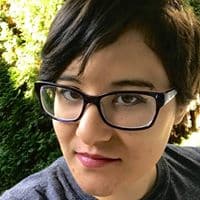 E.S. Huberty currently lives in Oregon, USA, with her husband and beloved pets, where she works as a freelance ghostwriter. You can read more of her thoughts on mental health, spirituality, and current events  on her blog, Living with the Noonday Demon.