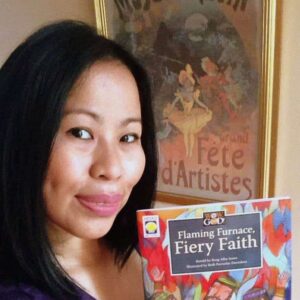 By Beng Alba Jones
Then the LORD said to him, "What is that in your hand?" Exodus 4:2
Growing up in the province with my grandmother and aunt, I lived a simple life. Although deprived of fancy clothes and pretty dolls, I did not feel lacking in anything.
At age eight, I learned how to best entertain myself. I had stories–in comics and in my books for reading in school. I missed meal times or stayed up late to learn what would happen next to my favorite characters. When life became boring or lonely, the world of make-believe painted by words brought me comfort and company.
My love for words gave birth to a dream. "Maybe someday, I, too, can write stories and people will know me."
But in my late teens, somewhere between saying my childish vow and growing into adulthood, God found me. He who wrote the Greatest Story of all–that of grace and redemption–refashioned the dream I once clasped so tightly in my hands. He whispered, "Write for Me."
For You, God? But…I barely passed my typewriting class in High School. Although I earned my bachelor's degree, I am not a genius. I don't even have my own computer. How can I write for You?
With love and gentleness, God stripped away the fear and inadequacy choking my heart. Every time I tackled a writing assignment, God gave me the words, and my faith, muscles. Although what I wrote didn't always get published, writing for Him felt like coming home.
Watch the video of Beng reading her author journey, "What's in your hand?"

My fingers hit the right keys now. In my thirties, I earned enough money to buy a computer. And although nobody will still mistake me for a genius, God has enabled me to write books, mostly for children. Just recently, I retold the story of Shadrach, Meshach and Abednego, and how God honored their faith and obedience.
Early on, I imagined myself as Moses who felt like he didn't have anything to offer to God. And then as the little boy with a basket of five loaves and two fish. I have learned that it's not about what I have in my hand. Ultimately, it's about what our powerful God can do with it.
Dear Jesus, take what's in my hand, and give me the words to help draw people to You.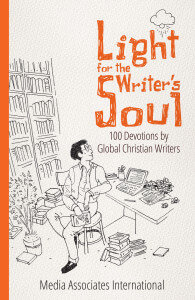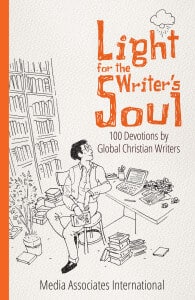 Beng Alba Jones, from the Philippines and now in the US, has written nine children's books and a short novel, plus various articles. She currently resides in North Carolina with the love of her life, Daren.
Read Beng's article and many other writers from around the world in our inspiring devotional book, "Light for the Writer's Soul: 100 devotions by global Christian writers," (co-published by Armour Publishing, Singapore).
Get your print or e-book today!