God heard our prayers and blessed the November 5-7 LittAfrica conference in Accra, Ghana, beyond our highest expectations:
"It took us to a deeper level of relationship with each other," said publisher Luka Vandi Uti of Nigeria. "I gained knowledge of publishing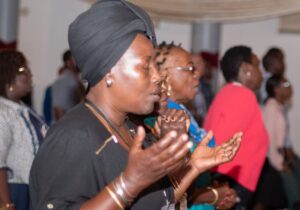 needs across Africa."
Pastor Luka, general manager of Africa Christian Textbooks (ACTS), was one of 120 publishing staff and writers from 21 African nations who participated in LittAfrica, our first all-Africa training conference.
Every workshop or plenary session was led or co-led by an African resource leader, 27 in all. Plenary speakers included: Lara Odebiyi of Nigeria, founder of Dabira women's magazine; Coby Asmah of Ghana, innovative founder and CEO of TYPE Company Ltd.; and Wambura Kimunyu of Kenya, CEO of Eneza Education; among others. More than 20 small-group workshops taught practical skills in digital publishing, writing, editing, design/illustration, marketing, management, and more.
"A high level of professionalism permeated the conference, from the quality of the sessions to even the signage and branding," said MAI President John Maust. "Attenders quickly felt at home with one another, actively engaging in the sessions, and they came away with fresh tools and inspiration to better serve their readers through the written word."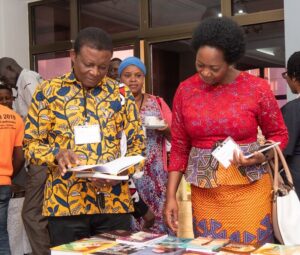 The three days featured times of celebration for the increasing number of excellent books and articles written and published by African men and women. Host Chair Lawrence Darmani (left) wrote a book, Bringing Words to Life, especially for LittAfrica that was given free to participants in their welcome bags.
Sessions on digital publishing and social media reminded everyone of opportunities to reach new audiences. Panelists in the session, "Publishing Hope for Hurting Readers," told about the impact of the written word in divided South Sudan, violent northern Nigeria and among abused young women in urban South Africa. Another panel discussion shared creative ways to foster reading in largely oral societies.
Agnes Singine had dreamed of launching a Christian publishing house for Zambia, where not one Christian publisher existed. A veteran editor with 25 years' experience in publishing, Agnes wrote after the conference, "I hope to carry on bringing words to life and fulfilling the Great Commission through writing." Only two weeks after the conference she registered Bespoke Publishing House as her business name.
"I thank the MAI-Africa team of Trustees who helped bring this conference together, Lawrence Darmani of Step Publishers, and his stellar local organizing team," said Rose Inziani Birenge, chair of MAI-Africa.

During LittAfrica MAI announced the 2019 recipient of the Robert B. Reekie Global Publisher Award, an annual award named for
MAI's founding president recognizing ministry excellence by a Christian publisher serving in a challenging context. MAI Director of Publisher Development Ramon Rocha III announced Editions PBA of Benin as the recipient, with Publishing Director Georges Laté (left in photo) coming forward to accept it. Founded in 1985, PBA focuses on publishing French-speaking African authors as the publishing arm of the IFES student ministry in Francophone Africa.
"I have learned that there is power in unity. I have been inspired by people's stories, and I have learned a lot of valuable lessons both as a leader of a publishing house and a writer," wrote Lillian Tindyebwa, co-founder of Quiet Garden Publishing House in Uganda.
"This is going to change the landscape of Christian publishing in Africa for years to come and even forever!" she wrote.
Christian publishers and writers "on the front lines" are being equipped and encouraged because of your partnership. Thank you! Help us satisfy global hunger for the written word.
Photos and videos by Prince Rufaro Makaya, Liberty Visions Media, Kenya