Several decades ago, MAI founder Bob Reekie met then-aspiring author Pearl Griffith at an MAI training on the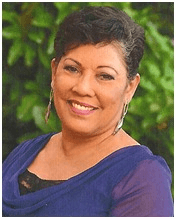 Caribbean island of Trinidad. "It was a 'God moment' for me that changed my life forever and gave me lasting hope," she recently wrote us. "The help I have received from MAI since that time, I now give to others." Since then, Pearl has encouraged multiple writers in her nation and brought their words to fruition through PDG Publications. We hope her writer's prayer will bless you also.
My Prayer as a Writer
By Pearl D. Griffith, Trinidad and Tobago
Teach me, O God, how to guard that sacred place within, where You commune daily with me, and I, with You.
Remind me, O God, that the best words and the most creative expressions I can ever muster will never come from my human head or heart, but rather, from that place, where I am alone with You.
Teach me how to submit and embrace this sacred trust, with reverence, humility, and with respect for You, to the benefit of those who will read or listen.
Help me not to trifle with words, or to employ veiled language in my communications. Eliminate the words between my lines of writing or of speech. May my expressions, though imperfect, be always sincere and cogent. Help me rather to err on the side of caution and wisdom than to say more than is required. In doing so, may I deliver words more succinctly and with relevance. More importantly, dear Lord, may You be pleased to use my words to enlighten or to edify those who read them, those who will listen, pay heed or learn anything from what I may have to say.
I am reminded, dear God, that it was in a period of personal crisis when You first told me that my pen was my pulpit. You assured me then that You heard my cry and You rescued me. Since that time, I have prayed that I would be responsible so that my words may never bring reproach to Your Name. I pray further that I would represent, honor and promote You always, rather than myself.
Remind me often, dear God, that my passion to write did not originate with me, but that it was a heavenly mandate as well as an anointing from You for me to effectively do the task You had given me to do, in the way You prescribed me to do it. In other words, remind me often, Lord, that I am just the instrument, so that I may write or speak with Your purpose in mind, but also with passion and gladness.
I pledge that whatever fruit may come from this gift will remain a sacrifice unto You and an offering that I gladly give back to You, for Your glory.
My pen is my pulpit, and this is My Write!
Pearl Griffith is a published author from Trinidad and Tobago, who loves the Word of God with a passion.  A lifelong learner, an encourager and investor in lives, she is a mentor to writers and a companion to those in grief. Her pen is her pulpit.
Your gift to MAI's global training ministry may be doubled! Learn how now.