(Carol Stream, Illinois, USA) – "Given the situation the world is going through, LittWorld 2022 was one of the best conferences I have ever attended," said publisher Sawsan Tannoury of Lebanon. "We saw how God is spreading His Word, despite the difficult circumstances."
More than 160 Christian publishing staff and writers from 50 countries gathered in Siofok, Hungary, April 24-29, for LittWorld 2022, the triennial global publishing conference organized by Media Associates International (MAI). Director Kornél Herjeczki of Harmat Publishers in Budapest and MAI's European Board served as conference hosts.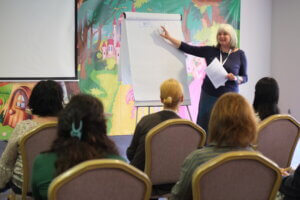 After two-plus years of relative isolation due to the pandemic, participants said LittWorld opened their eyes to the global media community and connected them to new global relationships for future growth and innovation.
"Many attendees told me that they were so glad that we went ahead with the conference despite the uncertainties of COVID-19, and then described the specific ways they benefitted from it," MAI President John Maust said.
Speakers from Europe, Asia, Africa, Australia, and the Americas wove the conference theme, "Stronger Together: Publishing Hope Beyond Crisis," into both the general sessions and the workshops. As a result, publishers gained insight for sustainability, editors for growing and training new writers, and writers and designers to express themselves in fresh ways using new voices and technologies. Panel discussions and mentor consultations provided perspectives and advice for moving forward in the years ahead.
The opening two sessions of the conference were livestreamed around the world, with author and counselor Emöke Tapolyai of Hungary speaking on "How to Maintain Hope and Help Others in a Dark World," and best-selling author Philip Yancey encouraging media to create content that will "lift eyes to permanent things" in a world in crisis.
The nearby war in Ukraine added a dimension of immediacy, with delegates both from Ukraine and Russia. Firsthand reports from Ukraine united the group in prayers for peace. A global bazaar conceived by a delegate from Mexico featured items from countries around the world that were sold at LittWorld. All the money raised went towards Ukrainian refugee relief in Hungary.
"It was a time of encouragement and insights," said Hussam Fakhoury of Jordan. "Just four months earlier I became director of a publishing house for the MENA region, and LittWorld was an opportunity to get wisdom from experts."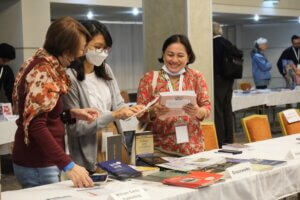 The conference is the largest training event of Media Associates International (MAI), which also holds smaller in-country training initiatives and workshops that satisfy hunger for the written word, go to hard places where the need is great, respond to local needs, and multiply skills and resources around the world.
"Thank you again for all the organizing, all the attentiveness, all the kindness and love you have shown to us," Romanian author and screenwriter Balázs Zágoni said. "I can only repeat what I have said before: If I could choose only one conference to attend in my life, it would be LittWorld."