Goading local writers is a task Joanna Ilboudo takes seriously. "I always start with this shocking phrase: 'Please don't die without sharing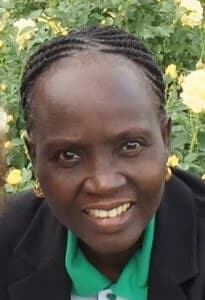 your God-given idea for future generations!'" Not surprisingly, writers in her August workshop have started penning articles.
Joanna has doggedly pursued a vision to multiply Christian writers in Burkina Faso for nearly three decades. Her landlocked West African nation of 20 million people is one of the world's poorest, with a literacy rate of only 37 percent. The country's scorching heat and pervasive red dust inevitably build character, evident in Joanna's persistence.
"You'll be like a Moses here," said Joanna's pastor, who affirmed her dream years ago for a Christian magazine to point people to the Lord. With the support of her husband Florent, a former military chaplain, the one-time high school French teacher launched Contact in 1992. The couple poured their savings into a new concrete-block building for the magazine's office.
The magazine was still nurturing believers in 2005, when Joanna founded ACTS Ministry to help shelter rising numbers of AIDS widows and orphans. Since then ACTS has expanded to serve the poorest of the poor in Jesus' name via: a junior school of 300, a secondary school of 250, a children's magazine, book publishing, a medical clinic, job skills training, Bible studies, sports evangelism and more.
A recent soccer tournament galvanized 14 teams of local high schoolers. Besides six weeks of soccer training, the students learned health tips, biblical principles, and how to care for the environment.
Despite ACTS' diverse outreach, "We will never stop training people to write," stated the July newsletter.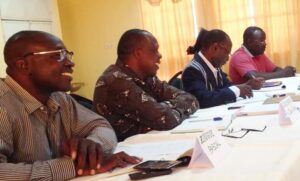 MAI has accompanied Joanna in her publishing journey by providing training support.  President John Maust recalled visiting Joanna in the early 1990s. "As we walked toward the magazine office in intense heat, she told me: 'A lot of people have vision when they have resources; they don't have vision when they don't have resources.'
"Joanna has always pursued her vision, regardless of circumstances or whether resources were available," he confirmed.
Christian books and magazines in local languages and French are still sparse on bookstore shelves in the capital Ouagadougou, but the results of Joanna's work are tangible, title by title. A print on demand shop at ACTS enables publishing quickly in small batches. Published books and booklets cover practical and spiritual topics, such as Micro Credit, HIV/AIDS, Techniques to Store Cereals, Leadership Principles for Women, Basics of the Christian Life, and more.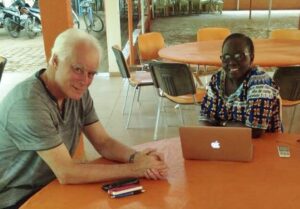 A bout of malaria temporarily slowed Joanna's planning for our August workshop. The dynamic MAI-Africa Trustee coordinated a training led by Tony Collins, editor at large with SPCK Publishing in the UK.
"It's a talented group," Tony reported after meeting the dozen participants, who all honed both writing and editorial skills during the six-day workshop. The week's writing sessions included: children's books, devotionals, biographies, a parable—the best three of which will be published online, and personal testimonies that will be compiled into a book.
Please pray that these fresh works speak effectively to readers.  And pray that the Lord continues to bless Joanna's relentless focus on equipping more local writers.
Your support is giving birth to valuable Christian books and articles in hard places of the world. Help us satisfy global hunger for the written word. Donate online now.