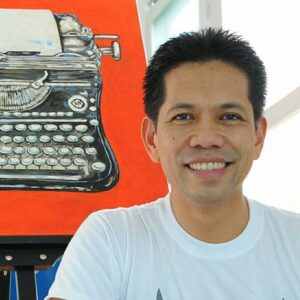 Author Ardy Roberto used to get frequent calls for advice on how to get published. Five years ago the Filipino entrepreneur conceived the idea for Project Author, a workshop to equip aspiring writers. Today the workshop encourages Christians to evangelize via their writing. Ardy has led seven Project Author workshops that have helped dozens of writers in the Philippines.
Q:  What does Project Author look like?
The model of Project Author is John 20:31. Those called to write are to write to help prepare the way. We need to remember the Great Commission and that Jesus is coming back…soon. The most recent workshops this March were called: "Project Author – The Ministry edition: Writing to evangelize, equip and inspire."
In March we held it in two half-day sessions, and in May a whole day with talks on: "Why write for Evangelism?"  "What to write?" and "How God uses writing to transform people." I also presented insights on writing with a Christian perspective gleaned from the MAI webinar by Dr. Miriam Adeney.
I shared my author journey to encourage participants and invited other mentor-authors, including Nelson Dy and Grace Chong, both award-winning authors. Yna Reyes, editorial director of OMF Literature, gave advice on "what readers are looking for" and how to get published.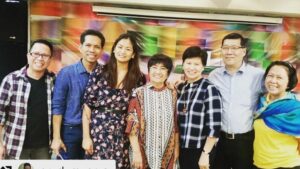 Q:  Who are your ideal participants?
Any follower of Jesus Christ who has a burden to evangelize, equip or encourage through writing (books, primarily). We had a good mix of about 30 to 40 pastors, church workers and volunteers, lawyers, entrepreneurs, artists, college students, retirees and others in March. I target a minimum of 12 students, and we have anywhere between 12 to 50 students.
Q:  Does any follow-up take place?
Yes, I form accountability groups. We also form chat groups on Viber or Whats App. I send them assignments and others send me updates on their work. Some communicate with me directly to ask advice. Sometimes I'll meet with them one on one—especially if that author is my wife!
Q:  Do you charge a fee?
I don't charge pastors or church workers any fees for Project Author – The Ministry Edition. However, I limit the free seats to 12 to 20 people at most. I invite other participants via registration on Eventbrite.com to be a "sponsor" ($100+) or pay their own costs to cover food, space and materials ($25-50).
Most recently our home church sponsored the venue and then a brother in Christ donated food. I give up any speaker honoraria and seek to bless the Church.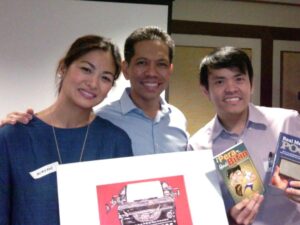 Q:  What results have you witnessed?
From this latest batch, a couple have already submitted or are about to submit book proposals to a publisher. A few have made public commitments to their writing. (See the article by a homeschooling mom and blogger.)
Multiple students from past workshops have since been published. Randell Tiongson said he's not a writer, but Project Author helped him become author of five books and a leading speaker on financial stewardship. Then there's Pastor Dennis Sy and Pastor Jayson Lo who have each written multiple books.
My wife Miriam's writing took off after she married the Project Author founder! Seriously, her book, He Can Catch You When You Fall, was a Project Author product and has become CSM's number one bestseller as well as a top 10 National Bookstore chain bestseller. But more than that, many readers have been reached for the Gospel and become closer to the Lord.
Q: What advice would you offer to others interested in equipping writers elsewhere in the world?
Pray and ask God for guidance and a go-ahead signal.
Understand that not everyone who attends will take the workshop seriously enough to go forth and write a book. That's okay. Focus on encouraging and mentoring the serious ones.
Book it. Schedule a workshop and trust God with the results. I just used my Viber and Facebook groups/pages to promote. I used apps and everything was online.
Learn from the experience and the speakers. The sessions ministered and inspired me as well to practice what we preached.
Finally, may everything be:
I-S-H — In Sync (with) the Holy Spirit. You can't do this alone. You need the guidance and leading of the Holy Spirit. Everyone whom I invited to speak were all moved by the Holy Spirit to help.
That makes the acrostic, "Publish."
<<Register online now for Ardy's free MAI webinar, "Write to Evangelize," on Tuesday, Dec. 12.
Ardy Roberto is the founder of Project Author and will lead a workshop on "Writing to Evangelize" at LittWorld 2018 in Singapore. He is a best-selling author, an award-winning entrepreneur and sought-after speaker. He has authored eight books including a #1 national best-selling book in the Philippines, Ang Pera na Hindi Bitin (Money that's Never Short). His other books include The Heart of Healing, Money & Marriage, and Real Men are POGI – How to be Handsome in God's Eyes. Ardy is married to Miriam Quiambao and together they raise their 9-year-old son, Joshy Boy.