By John Maust
Just before some borders were closed to control the spread of the coronavirus, MAI held a series of productive trainings in West Africa. Staff member Ramon Rocha III co-led MAI-Africa workshops for Christian publishers and writers in Nigeria, Cameroon and Côte d'Ivoire in early March.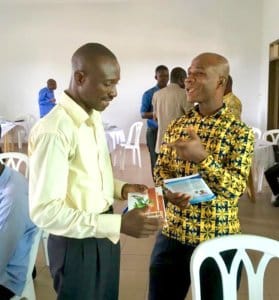 Some 52 Christian booksellers and publishers attended Ramon's marketing workshop hosted by Jules Ouoba and his team at CPE publishing house in Abidjan, Côte d'Ivoire. "I have just formed a new publishing house, and this marketing training was exactly what we needed," one participant said.
Marketing may not sound very "spiritual," but Christian books won't be read unless people know they exist and where to find them—thus the importance of marketing to spread the Word.
Not surprisingly, MAI-Europe needed to postpone the April MediaFest conference in the Czech Republic due to precautionary measures to control the coronavirus. Our planned Chicagoland event on how to write a book proposal met the same fate.
With many of us essentially "confined to quarters" because of the virus, we may have a bit more time in our schedules, so how will we use it?
"I find myself enjoying the challenge of the flexibility that a blank diary provides and responding to the prompts I believe God is giving me in answer to my prayer about that," said a former MAI Board member from the UK.
"What to do at home?" asked Brazilian publisher and MAI trainer Mark Carpenter. "Nothing more natural than to catch up on our reading and discover new books. Books are made for this. We can come out of this wiser, more enlightened and better prepared to resume life, career and relationships."
This is
an opportune time for us global Christian publishers and writers. In many ways, we were made for such a time as this—positioned to give anxious readers a message of hope, help, truth and comfort found in a relationship with a loving God.
Are  you doing anything creative right now to reach out to your readers?  We'd love to share it with the MAI global network.
We also know this is a difficult and stressful time for you whose publishing ministries are hard-hit financially by the crisis.  Let us know how the MAI "family" can support you in prayer.
John Maust is president of MAI.