Customers sip java, chat with friends and browse bookshelves at Koffer, a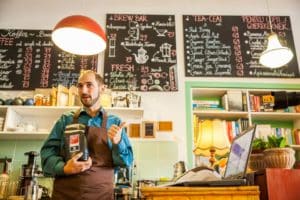 charming new coffee and bookshop in downtown Cluj, Romania. Sandor, a barista with a theology degree, brews gourmet coffee drinks and chats about the Christian books. How's that for serving up creativity to reach new readers?
When Koffer opened its doors last November, a dream came true for publisher Balázs Zágoni of Koinoinia Books—an MAI-Europe Trustee—and his barista friend, Sandor (pictured above). They had witnessed many bookstores go bankrupt, and the high rent downtown was prohibitive. But when Balázs' friend offered Koinonia the storefront for half the normal rent, it became a possibility.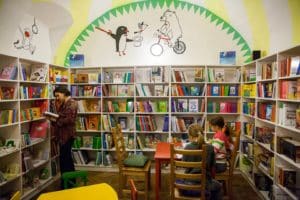 A refrigerator and furniture were donated. Sandor's wife Krisztina offered her interior design skills gratis. Volunteers painted walls cheerful colors and patterns, and created original children's artwork.

Sandor, a youth pastor, had also dreamed of a cozy place to reach people and enjoy one-on-one discussions about life and faith. For years he'd run a mobile coffeeshop at Christian camps and conferences, and had even been trained in barista ministry.
The opening was rescheduled four times due to a delay on official licenses, but prayer paved the way. "If I were to summarize in two words, it would be: 'God provides,'" Balázs says.
Crowds filled Koffer, which means "suitcase" in some European languages, during opening week—the five tables and one children's table always full. The cash register hummed with booksales for Christmas. Today seats are still scarce during busy hours. Balázs and Sandor hope the shop's multi-faceted allure will make it sustainable long term.
Since its opening, customers have flocked here for two book launches. Balázs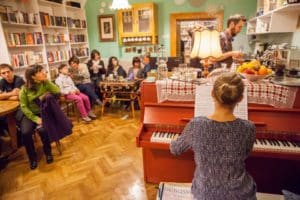 envisions many more outreach events, including roundtables with authors, and promoting MAI and homegrown Christian literature.
"It is such a good feeling to see non-Christians searching through the shelves of Christian books, picking them up and reading the jackets," he says.
Read our interview with
Balázs about writing his first sci-fi novel
Photos by Bea Angyalosi