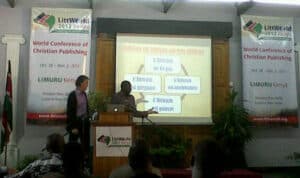 "Political stability is a resource we take for granted until we no longer have it," said Jules Ouoba, publisher of the largest Christian publishing house in Francophone Africa. He just completed delivering the session "Publishing Amid Crisis: an African Publisher's Story" at LittWorld 2012 in Limuru, Kenya. CPE, his publishing house in Côte d'Ivoire, became self-sustaining despite facing multiple crises—economic, social and political—including the destruction of their building.
Jules recognized MAI's strategic consultation help in restructuring and rebuilding. CPE applied three key strategies:
focus on targeting readers,
focus on distribution efforts,
focus on aggressive marketing.
Thank God for helping them overcome multiple obstacles in building CPE's now self-sustaining publishing ministry in Côte d'Ivoire.
Photo by Eric Gitonga
>>Read MAI's interview with Jules Ouoba about coping in the midst of civil war.
Check out the latest photos and quotes from LittWorld 2012: www.facebook.com/MAIfanpage
www.twitter.com/maimaust  #LW12