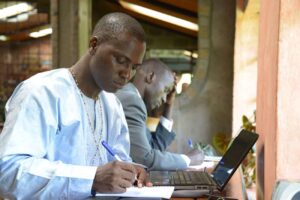 Nigerian journalist Lekan Otufodunrin is online and special publications editor at The Nation Newspapers. As president of Journalists for Christ International Outreach, he wrote this devotion to encourage other writers. Lekan is also a Trustee of the newly-formed MAI-Africa.
At an interactive session with a group of students recently, Nobel laureate, Professor Wole Soyinka revealed that one of his career dreams was to be a journalist. He actually sat for a test to be employed as a reporter at the defunct Daily Times Newspapers but was not hired because, according to him, he was told he wrote a short story instead of a news story.
On reflection about his failed attempt, Soyinka is glad he ended up a literary writer and not a journalist. "Thank goodness I did not become journalist" he told the students.
I want to believe that Soyinka comment is not meant to disparage journalism as a profession. I will rather align myself with those who think he probably believes that he would not have been able to accomplish his global literary status if he had been a journalist.
If God's purpose for Soyinka is to be a literary writer and not a journalist, so be it.
God indeed has a purpose for all of us. The scripture says before we were formed in our mother's womb, He knew us.
However, I know many journalists who are not happy that they found themselves in journalism. They wish they were practicing some other perceived more rewarding profession.
But for me, I thank God I am a journalist. I have no doubt that I am fulfilling God's purpose for my life. Instead of being ungrateful to God for making me a journalist and been envious of some other professionals, I have learnt to discover God's purpose for me in journalism and make my calling and election sure.
I know that my goal in life should be that I be what God wants me to be and not what I want. I am too sure that He that called me to be a journalist [and] is faithful. I know that He will provide all my needs according to His riches in glory.
I know that the God I serve is no respecter of professions. What He makes possible for the Doctors, Lawyers, Bankers and other professionals, He will make happen for me too as long as I abound in the place of my calling.
My desire is not to be accomplished for personal reasons in the eyes of the world by opting for any profession other than that which God has ordained for me.
On the Day of Judgment, I want to stand before God and be told, "Thou good and faithful journalist, enter into your rest."
Share your comments with us and Lekan here.