LittWorld provides a unique opportunity for people to think outside the busyness of their day-to-day challenges and tasks. Here's how God answered one woman's prayers for new creative blessings at the last LittWorld:
Lisa Haskin has dabbed paints on canvas for decades. "I'm really detailed, precise, and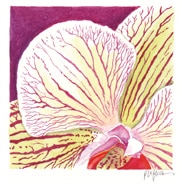 my work looks like I'm anal-retentive, which I kind of am," she laughs. (See orchid painting at right.)
A few days before Lisa boarded a plane for Nairobi to attend LittWorld 2009, friends gathered to pray for her journey. One woman prayed that the Lord would bless her artwork in a new way.
In Lisa's free moments at the conference, she relaxed in the gazebo overlooking lush foliage and tea plantations. She started sketching with the few art supplies she'd packed. With limited time, she quickly scribbled with color pencils, then took dozens of photos of the surrounding flowers and cottages.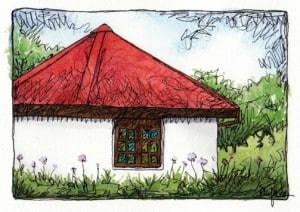 After returning to Chicagoland, Lisa started a worship notebook in which she drew pictures she felt the Lord was giving her. "I started working with the scribbly style of colored pencils and black pen over it," she recalls. But Lisa still didn't know if she should pursue the new style.
Last summer at a barbecue, her pastor's wife asked if God was leading anyone in a new direction. Lisa shared about the style she'd experimented with and her uncertainty. Immediately, someone affirmed Lisa should pursue what God had given her.
That week-end Lisa sat down with her photos from LittWorld and completed 6 to 8 paintings in an hour each, using the loose, scribbly style she'd started in Nairobi. "It's like they came gushing out of me. That's the only way I can explain it," she said. Her other paintings each normally took a week-end or all week to complete.
"It's very freeing and less about being precise and worrying about the end product. I don't know how the drawing will turn out, I just continue until I feel it's down. That way, it's not planning, but letting God use me as the brush, the tool."
Please join us in praying that this unique gathering, LittWorld 2012, would spark more new ideas to satisfy global hunger for the written word via books, articles, magazines and graphics/illustrations.
>>Download our prayer guide for LittWorld 2012.