This article was adapted from MAI's recent webinar, "Build a Better Publishing House Website," with Sam Richardson, CEO of SPCK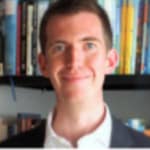 Publishers.
A good publisher website is one that meets the needs of different users. But a great publisher website increases the reach of the publisher beyond these audiences. To go from good to great, you first need to do the basics right in order to attract consumers and stop annoying them.
1. Your website must come up when you search for your company name on Google. This is easier if you have a unique name. If you have a common name like "Bible publisher" it will be hard for people to find you. If you have a common name with a lot of competition, consider paying for Google key words to ensure people can find you on Google.
2. Your website must not automatically play sound and video. It can be very embarrassing if you're sitting in the middle of an office. It's considered outdated.
3. Your website must be responsive (compatible with multiple devices—like tablets, smartphones, etc.). Google relegates websites lower in searches if they aren't responsive, so it's increasingly important to be compatible.
4. You must not have an ugly homepage. The  homepage (landing page) of your website is the first thing that people see about you. It's a great chance to show people your beautiful ads and book covers, as well as your great words. Make the most of your assets.
5. You must not have an unclear menu structure. Whether your menu is down the left side or along the top, which is more popular now, it's really important people can find your contact information, your store (shop), etc.
6. You must update your homepage regularly. Your super fans, those you really want to connect with, may visit your website every week. If you show them updated contact, it will encourage them to come back. Rotate your titles on the front page, show your social media links, post news items. There are many things you can do without much work.
7. You must not have broken links. If you can get rid of them on your website, this will improve your search engine ranking on Google and Yahoo a lot.
8. You must not hide your contact details. Customers often go to your website because they're looking for your contact information. It's tempting to try and hide them, but that will frustrate people. Consider setting up an email address just for website inquiries. People are happier sending an email than filling in a web form.
9. You shall have one website only. We used to have one web site for SPCK as a mission agency and one for our publishing. It confused Google, Yahoo, our customers and retailers. Have only one website if at all possible.
10. The user must be able to find what she wants. Different users have different needs.
Watch the full video of "Build a Better Publishing House Website."
Check out our upcoming free webinars on publishing-related topics and videos of recent webinars.