This response by Philip Roa of the Philippines placed first in our November writing contest. Contest participants were invited to respond to this prompt in 400 words or less: Write a letter in response to someone who says, "When I see how Christians act, I don't want to become one."
Of his piece, contest co-judges Bernice Lee and Soo-Inn Tan of the Graceworks ministry in Singapore said, "You stood with the reader in his/her disappointment with Christianity, then you suggested a different narrative to encourage a different understanding." Congratulations, Philip! We will be sharing more of the submissions in the months to come as well.
The Truth about Christianity
by Philip Roa
Dear Friend,
I completely understand your response. I, in fact, felt the same way years ago. How can such a powerful cause stray so far from its course?
Today's Christianity comes in several different forms. It is sometimes called "The Prosperity Gospel," "Name It and Claim It," or even the much simpler "Churchianity." It has become hollow shells that uphold the self, completely missing the point; a marketing and political demographic for corporations and politicians to pander to. It's become a social group where people can belong. It's a clique where others can feel good about themselves as they look down on—and even oppress—those they perceive to be lesser in rank or status.
It has become more about personal convenience and safety.
That is not its true form.
It is this: Loving God with all your heart, soul, and mind; then your neighbor as yourself, putting their needs first in selflessness.
How can we do this? Jesus! His example is one to follow. From the moment He began His earthly ministry, He championed society's underprivileged and outcasts by meeting their immediate needs. He fed the hungry, healed the sick, and treated everyone equitably.
He challenged the status quo by publicly calling out the hypocrites in power who subjugated their own countrymen and misused their authority for their own benefit. He was bold enough to confront them publicly with grace and justice.
Most importantly, He redirected humanity to its greatest need: reconciliation with their Creator through repentance. This ends sin's oppressive power for those who believe in His death on the cross. Christ made things right between man and God. It is why His impact is memorable some 2,000 years later.
Therefore, I urge you, dear friend, to not focus on those who treat "Christianity" as a mere title. It has never been about being safe or cool. The lives of martyrs like Peter, Paul, and Barnabas beg to differ. They realized the true cost of following Christ, even if it meant their own lives.
In this day and age, there are still those like Jesus who are willing to fight the same worthy cause. Find them. Join them. Follow them as they follow Christ's example of standing up for the oppressed, caring for the needy, and restoring them to God the Father so they can love others as He does.
That, dear friend, is true Christianity.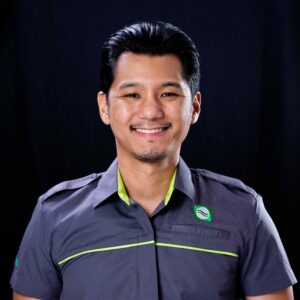 Philip Roa, 29, of the Philippines co-authored a book with Ardy Roberto entitled Ang Allowance Na Hindi Bitin (The Allowance That Doesn't Run Out) in 2018. He is the content writer for Sanitary Care Products Asia, Inc.

>> Read the runner-up entry, "Me? Be Like Those Christians?" by Marjory Hord Méndez here.