By Miriam Adeney



From Egypt, Jordan, Syria, and Lebanon they walk in, sit down, and plug in laptops or lay out pens and paper. These 17 writers are each working on a book in Arabic in the Christian Arab Writers' Initiative, a joint effort of MAI and Ophir Publishers of Jordan. 
Topics include women's oppression in the Christian home. Covenant Theology for everyday Christians. Fiction stories. And a handbook on how the Church can use new media.
Rashid is writing a novel. One evening he stood before us and read about a young woman who was kidnap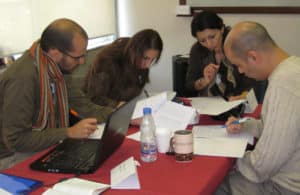 ped and raped repeatedly for two months. Her parents sold everything, even their home, to pay her ransom. Yet when she finally escaped, people shunned her. Even her family felt awkward around her.
Nuns helped her work through her trauma. "Come, help us with the other girls," they invited her. But the "other girls" turned out to be Muslims. No way was she going to serve them. It was Muslims who had grabbed and hurt her so badly.
Over time her heart softened. Eventually, when she was offered a ticket to Australia, she declined. Why? She wanted to stay and help more rape survivors in months to come–even the Muslim girls.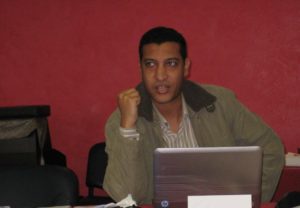 Rashid is from Syria. This is where the apostle Paul became a Christian and some of the earliest Christians lived. Last year 5,000 of Rashid's fellow countrymen were killed in violent confrontations between the military and ordinary citizens. For 10 harrowing days Rashid's brother was jailed and interrogated. Two of Rashid's friends were shot and killed. Rashid was threatened, and fled the country last July.
Other writers in the workshop face their own challenges and uncertainties. The Egyptians headed to Lebanon one day after parliamentary elections: What does the outcome hold for Christians in their nation?
While words of truth and hope are penned in Beirut, the Arab Spring seethes around us. Writing the truth is a privilege, but it can also be costly.

Trainers for this workshop included Stephen and Alice Lawhead and Dr. Miriam Adeney.

<<Watch a 1 minute video from Beirut
"I discovered I have great potential to write," said Ruba Abbassi, director of Arab Woman Today Ministries.
<<Watch the video: What Christians are reading in the Middle East with Lebanese publisher Sawsan Tannoury of Dar Manhal Alhat in Beirut.
Background
This workshop was the second in the three-year "Christian Arab Writers' Initiative." Participating authors receive specialized training that will increase their writing skills and impact in the market. The program also involves coaching, as well a writing contest that aims to encourage them to complete and submit quality book manuscripts. Judges will select the top three manuscripts, and the winning writers will be awarded cash prizes. In addition, all good manuscripts have a chance to be published by different Christian publishing houses in the region.

Book publishing in Arabic lags behind much of the world and depends extensively on translated works from other languages.

"Middle Eastern cultures are traditionally oral," explained a Middle Eastern publisher. "Most people do not have much formal training in writing since the educational system favors oral communication over written." Arabic-language Christian publishing in the region also faces challenges from the surrounding religious culture.
Without training for writers and investment in publishing, Arab literature will continue to trail behind the rest of the world," he said.
The success of this project is a result of cooperation between several groups. MAI provided training expertise and the cost for developing the CAWI website. Salt Foundation Inc. provided scholarships for the workshop participants. Dar Manhal al Hayat publishing house in Beirut helped with local logistics and provided use of their facilities. Ophir Publishers gave birth to this initiative in consultation with MAI.