Prior to the Latin America Congresses on Evangelism (CLADE) held in Costa Rica last July, some publishers had asked, "Why is it important for us to be in an event like CLADE?" After all, it was a forum for theological reflection for Christian leaders across the continent. For MAI and participating publishers it was worthwhile for several reasons: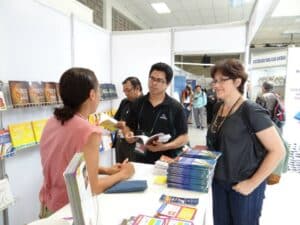 First, this was a book devouring audience, and therefore an excellent opportunity to sell books. And, direct contact with this public gave us invaluable feedback on the books being published and an opportunity to hear recommendations.
For lonely editors, it was valuable to meet grateful readers who in turn will become natural promoters of our books.
Publishers had the opportunity to hear the issues being debated. In a continent as large and diverse as Latin America, it's challenging to put your finger on the pulse of the Church. A congress like this provides an unequalled opportunity for market research.
We also met potential authors, some of whom had already been in touch with a publishing house, but face-to-face contact had never been possible. Other potential authors would perhaps never have contacted a publisher: some conference or workshop speakers are wonderful communicators, with perhaps limited gifts as writers, but with a message that needs to be published abroad. A creative publisher can find ways of doing that with the help of a ghost writer.
In the same way, writers could interact directly with publishers and understand their respective focus and style, plus listen to issues being discussed. Noone wants to write or publish in a vacuum.
The event also served as a focus group on communication tools; what blogs people are reading; if they were reading our social media and web sites; and the type of technological devices they are using. We were surprised to discover who was using iPads, laptops, smart phones… and who wasn't!
So, why not take advantage of theological conferences in your region to learn, network and promote your books?
By Ian Darke, MAI's Latin America regional trainer
>>Related post: Ochoa reflects on Latin American interest in Christian publishing