When God closed the door on Joel Sergio's dreams of emigrating to Europe, the pages of his writing life began to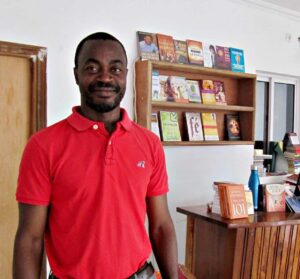 unfold. Thousands of aspiring youth from Angola, including his two brothers, had left for Europe in the late 1980s and 1990s. Poverty, unemployment and hopelessness gripped the former Portuguese colony of southern Africa, scarred by decades of civil war.
Joel cried out to God in despair. Epilepsy and the danger of a workplace seizure in Europe's booming construction industry prevented him from joining his brothers. Hope filled him as he read Ezekiel 37, "The Valley of Dry Bones." "It is easy to close our eyes on God's will when we want him to do our will!" he reflected.
A receptionist job at Scripture Union exposed Joel to Christian literature. Two evangelistic tracts he penned were distributed. Joel sharpened writing and editing skills every Saturday in a writers club organized by the Evangelical Alliance.
After attending our LittWorld 2009 conference in Kenya, Joel co-authored and produced two books with his brothers, one a dance teacher in Italy, the other an Olympic athlete who plays beach volleyball.
In 2013 Joel founded Tchia Criativa, "Publications of Love." But a sluggish economy and widespread poverty have hindered sales in his bookstore in Luanda, Angola's capital. Boxes full of books from Brazil and Portugal line the storeroom shelves. Joel requested MAI's consulting help.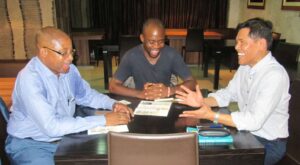 This April Joel's team met with Ramon Rocha, our director of publisher development. "We did not even know about marketing plans for books," Joel said. "We thought it was enough to print the book and the sales would be automatic."
Equipped with marketing strategies, Joel plans to republish his own title, You Too Can Succeed, the first motivational book by an Angolan. Other future titles include: Letters to an Addict (help for alcohol and drug addictions), Start Your Own Business and Write Your Own Story.
Joel hopes his books by local authors will give readers an African and global view of faith, not a Western one. "We need books that challenge the Church to take a stand for Christ," he said.
Help grow the skills and influence of Christian publishers like Joel.  Invest with MAI to create "homegrown" literature  in hard places of the world. Donate online.