"I have been considered a perfect failure in my society," confesses 34-year-old author Ivanova Nono Fotso of Cameroon.  "Still single, living in my parents' house, and writing children's stories from home don't meet for the criteria for success here."
And yet, despite her challenges, Ivanova's writing career has flourished over the last decade with international mentoring and partnerships.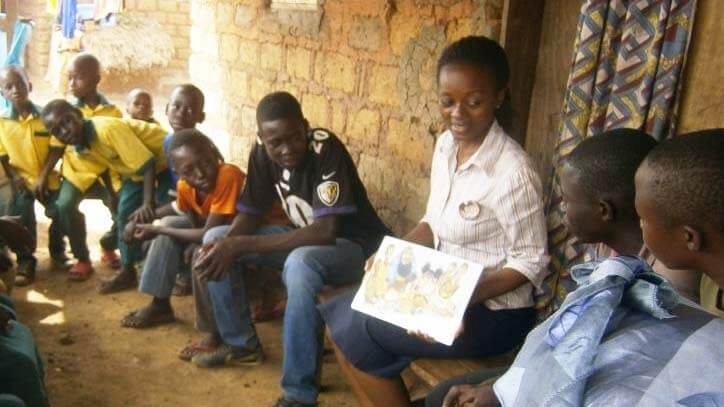 Her first book, Même Pas Peur! (Don't Be Afraid, PJA 2013), illustrated by French artist Didier Millotte, helps children cope with fear. On a visit to a UN refugee camp in 2016, she was thrilled to read it to children and gift them copies.
Ivanova grew up devouring books, the second of five sisters in a Christian family. Reading the novel Little Women in high school inspired her to pen fiction based on real life. When the French women's magazine Amina published several of her short stories at age 20, God confirmed a calling to write.
Ivanova has also written for Francophone youth in the magazine, Jouv' Afrique, and the comics collection, Eclats Bandes Dessinées d'Afrique. Today she is coordinating creation of the African-authored-and-illustrated "Graphic Novel Bible," a project by Comix35, Editions Clé, and Publications pour la Jeunesse Africaine.
Many Christians in Francophone Africa view fiction as "fake" and reading it a waste of time, Ivanova says.  Similarly, some view writing for children as second-class: "Maybe someday you'll be able to write for adults," a pastor once told Ivanova, meaning to encourage her.
So, not surprisingly, discouragement is a frequent battle for the petite, soft-spoken woman. But Ivanova's vision to serve children is unwavering. She credits gratitude to God and prayer as effective antidotes. "My ministry is to share how God has comforted me," she says.
Other African wordsmiths are gaining from Ivanova's talents. Writers from various nations learned how to create graphic novels in her workshop at our LittAfrica conference in Ghana last year. And church leaders in Cameroon acquired writing tools in MAI's workshop that Ivanova helped coordinate this March.
Her latest children's manuscript, "Imani: The Little Doctor," will be published in English by Step Publishers in Ghana. It features a wheelchair-bound girl who aspires to become a doctor.

Like her main character, Ivanova says, "I want to see with eyes of faith."
Your support is giving birth to valuable Christian books where readers are hungry for words of hope. Learn how you can make a difference to authors like Ivanova.